The Seated Liberty Half Dollar was introduced in 1839 and would be minted until 1891. Several changes to the design and specifications create a number of different subtypes to the broader series. With basic issues and varieties ranging from common to extremely rare, the series has something to offer for everyone. Although completion of a full set is extremely difficult in any grade, all collectors can enjoy the fascinating stories that some issues have to tell and the historic series which represented the face of the changing nation during the 19th century.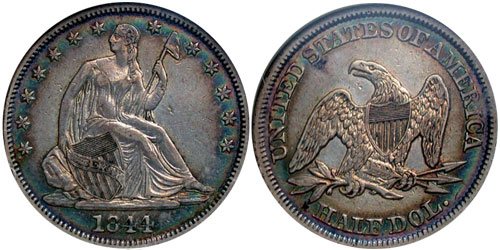 The new design for the half dollar was based on Britannia, who had been prominently featured on British coins. Artist Thomas Sully made a number of sketches, which United States Mint Assistant Engraver Christian Gobrecht adapted to be suitable for obverse and reverse coin designs. Before being adopted for the half dollar denomination, this design was initially used on the Gobrecht Dollars of 1836, introduced on the dime and half dime in 1837, and introduced on the quarter dollar in 1838.
The obverse featured an image of Liberty seated on a rock, facing left. One hand rests on a shield with the inscription LIBERTY, while the other hand holds a pole with a liberty cap atop. The date appears below the seated figure with thirteen stars around no further inscriptions noted.
The reverse was similar to the reverse design used for the prior Capped Bust series with some modifications to the size and visual appearance. An eagle appears at center with a shield on its chest and an olive branch and bundle of arrows in its talons. The inscription UNITED STATES OF AMERICA appears above with the denomination expressed as HALF DOL. below. In the year 1866, a scroll above the eagle was added with the words IN GOD WE TRUST.
This site will provide further information on the historic series of Seated Liberty Half Dollars, which saw America expand westward and endure the ordeals of Civil War. Find descriptions of the design changes, mintage figures for each year, specifications, highlights and rarities of the series.