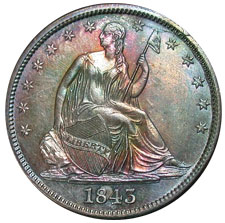 With production taking place over the course of more than 50 years and at four different mint facilities, Seated Liberty Half Dollar mintages vary widely. A complete set of coins not including varieties consists of 113 coins. Mintage figures for these issues range from a low of just 4,800 pieces struck in 1879 to a high of 8,418,000 pieces struck in 1876.
Coins were produced for every year of the series at the Philadelphia Mint. The New Orleans Mint was active for the initial years of the series from 1839 to 1861. The San Francisco Mint struck Seated Liberty Half Dollars from 1855 to 1878. The Carson City Mint struck coins for the least number of years, with production taking place between 1870 and 1878.
Mintages were extremely low from the years 1879 to 1890, however these issues are not as rare as they would seem due to widespread hoarding. Noted rarities of the series included the 1853-O without arrows and rays, 1855-S, 1870-CC, and 1878-S.
The table below presents the mintages for the Seated Liberty Half Dollar series. Major design changes throughout the series are noted.
Seated Liberty Half Dollar Mintages
| No Motto Above Eagle | |
| --- | --- |
| 1839 | 1,972,400 |
| 1840 | 1,435,008 |
| 1840-O | 855,100 |
| 1841 | 310,000 |
| 1841-O | 401,000 |
| 1842 | 2,012,764 |
| 1842-O | 957,000 |
| 1843 | 3,844,000 |
| 1843-O | 2,268,000 |
| 1844 | 1,766,000 |
| 1844-O | 2,005,000 |
| 1845 | 589,000 |
| 1845-O | 2,094,000 |
| 1846 | 2,210,000 |
| 1846-O | 2,304,000 |
| 1847 | 1,156,000 |
| 1847-O | 2,584,000 |
| 1848 | 580,000 |
| 1848-O | 3,180,000 |
| 1849 | 1,252,000 |
| 1849-O | 2,310,000 |
| 1850 | 227,000 |
| 1850-O | 2,456,000 |
| 1851 | 200,750 |
| 1851-O | 402,000 |
| 1852 | 77,130 |
| 1852-O | 144,000 |
| 1853-O | 4 known |
| Arrows at Date, Rays Around Eagle | |
| --- | --- |
| 1853 | 3,532,708 |
| 1853-O | 1,328,000 |
| Arrows at Date, No Rays | |
| --- | --- |
| 1854 | 2,982,000 |
| 1854-O | 5,240,000 |
| 1855 | 759,500 |
| 1855-O | 3,688,000 |
| 1855-S | 129,950 |
| No Motto Above Eagle | |
| --- | --- |
| 1856 | 938,000 |
| 1856-O | 2,658,000 |
| 1856-S | 211,000 |
| 1857 | 1,988,000 |
| 1857-O | 818,000 |
| 1857-S | 158,000 |
| 1858 | 4,226,000 |
| 1858-O | 7,294,000 |
| 1858-S | 476,000 |
| 1859 | 747,200 |
| 1859-O | 2,834,000 |
| 1859-S | 566,000 |
| 1860 | 302,700 |
| 1860-O | 1,290,000 |
| 1860-S | 472,000 |
| 1861 | 2,887,400 |
| 1861-O | 2,532,633 |
| 1861-S | 939,500 |
| 1862 | 253,000 |
| 1862-S | 1,352,000 |
| 1863 | 503,200 |
| 1863-S | 916,000 |
| 1864 | 379,100 |
| 1864-S | 658,000 |
| 1865 | 511,400 |
| 1865-S | 675,000 |
| 1866-S | 60,000 |
| Motto Above Eagle | |
| --- | --- |
| 1866 | 744,900 |
| 1866-S | 994,000 |
| 1867 | 449,300 |
| 1867-S | 1,196,000 |
| 1868 | 417,600 |
| 1868-S | 1,160,000 |
| 1869 | 795,300 |
| 1869-S | 656,000 |
| 1870 | 633,900 |
| 1870-CC | 54,617 |
| 1870-S | 1,004,000 |
| 1871 | 1,203,600 |
| 1871-CC | 153,950 |
| 1871-S | 2,178,000 |
| 1872 | 880,600 |
| 1872-CC | 257,000 |
| 1872-S | 580,000 |
| 1873 | 801,200 |
| 1873-CC | 122,500 |
| 1873-S | none known |
| Arrows at Date | |
| --- | --- |
| 1873 | 1,815,150 |
| 1873-CC | 214,560 |
| 1873-S | 228,000 |
| 1874 | 2,359,600 |
| 1874-CC | 59,000 |
| 1874-S | 394,000 |
| Motto Above Eagle | |
| --- | --- |
| 1875 | 6,026,800 |
| 1875-CC | 1,008,000 |
| 1875-S | 3,200,000 |
| 1876 | 8,418,000 |
| 1876-CC | 1,956,000 |
| 1876-S | 4,528,000 |
| 1877 | 8,304,000 |
| 1877-CC | 1,420,000 |
| 1877-S | 5,356,000 |
| 1878 | 1,377,600 |
| 1878-CC | 62,000 |
| 1878-S | 12,000 |
| 1879 | 4,800 |
| 1880 | 8,400 |
| 1881 | 10,000 |
| 1882 | 4,400 |
| 1883 | 8,000 |
| 1884 | 4,400 |
| 1885 | 5,200 |
| 1886 | 5,000 |
| 1887 | 5,000 |
| 1888 | 12,001 |
| 1889 | 12,000 |
| 1890 | 12,000 |
| 1891 | 200,000 |